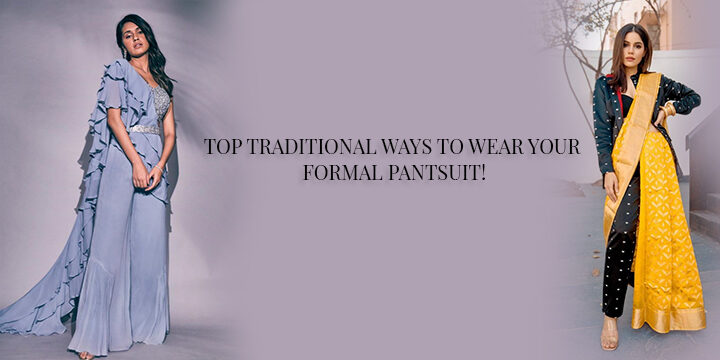 TOP TRADITIONAL WAYS TO WEAR YOUR FORMAL PANTSUIT!
Pantsuit, also known as the tailored suit, is woman-oriented formal clothing that gained popularity in the 1960s when there was a rise in the female workforce. Pantsuit being the contemporary shift in India didn't utterly settle as a workplace dress code because the comfort brought by Indian garments is beyond impeccable. There is always a way to amalgamate the two. Even fabrics and colors play a huge role to differentiate office wear from party wear. Materials like khadi, cotton, and linen communicate simplicity and sophistication, which fits well with the work environment. The texture of these fabrics is soft and highly comfortable. Coming to the colors, muted hues are your best bet as they are subtle and toned down. Synchronizing pantsuits with ethnic wear is a very clever and creative way to enhance your ordinary work outfits. We have enumerated few amazing ways to elevate your basic formal clothing with the help of traditional finery.
1. THE INDO-WESTERNIZED SAREE DRAPE
Draping a saree in distinct ways is in itself is a trend. With the emergence of social influencers and innovative stylists, new and unique saree wraps are going live every day. To indo-westernize your pantsuit, handpick a traditional handloom saree. Start by pleating the saree from the front center towards the left and tuck it in the pant. Pleat the pallu and put it on your left shoulder. Try not to overdo the look by setting it together with jewelry. Stay minimal with the footwear, hairdo, and makeup as well. Sarees with hefty embroideries are a big no, and so are net or other party wear fabrics as they will take away the comfort and work-vibe.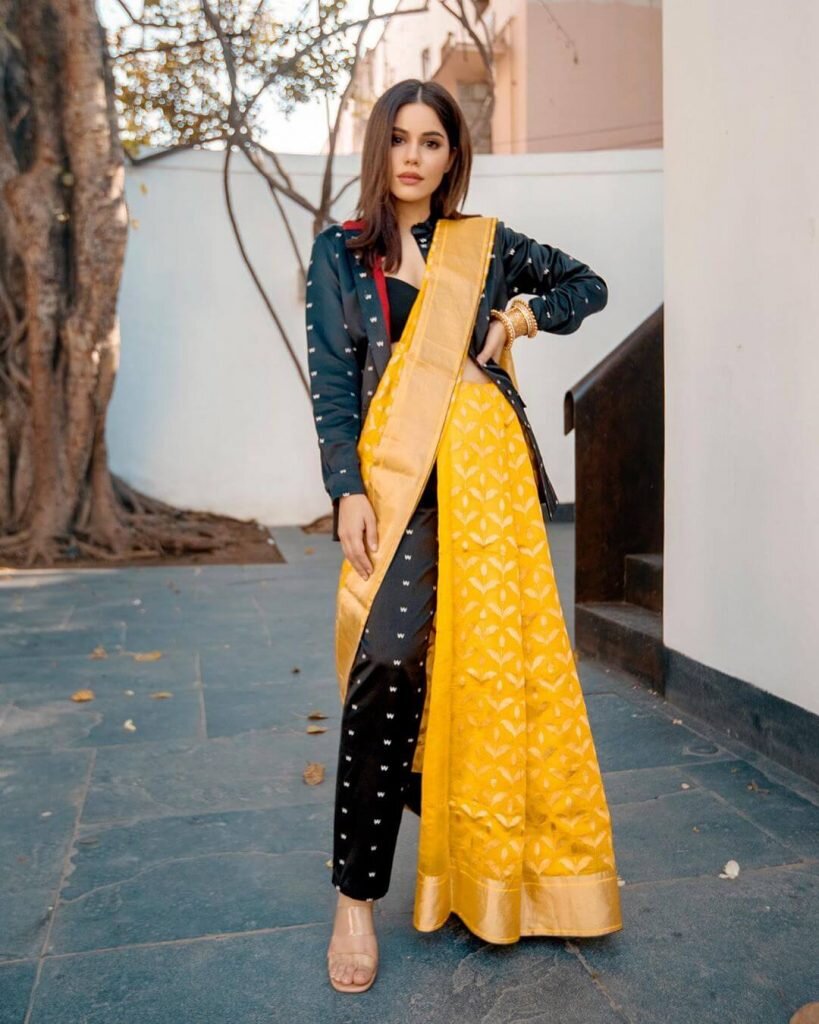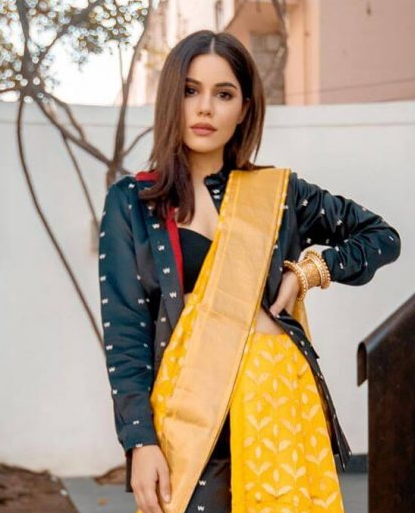 2. LET PRINTS DO THE TALKING
You don't always have to depend on traditional clothing to make an indo-formal composition. Indigenous prints of India are enough to make a bewitching ensemble for you. Prints like ajrakh, bagh, bandhani, and so forth elevate the pantsuit in the most commendable manner. To make it even more traditional, go for dainty jhumkas or a thin bracelet. Again, keep the makeup soft and natural. The print you will be picking out will have a major impact on the overall outfit. Try not to go for a heavily intricate or detailed print as it will lead to an exaggerated conclusion. One or two-toned prints are preferable to keep it work-friendly, i.e subtle and sophisticated.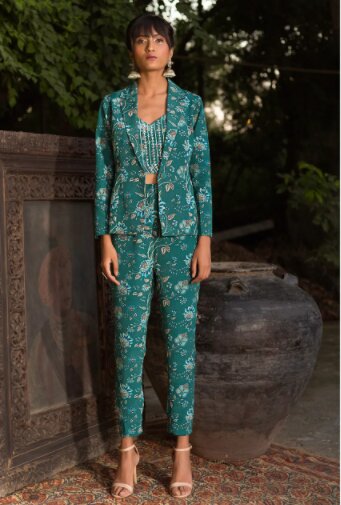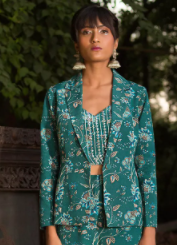 3. AN ADORABLE TWIST OF MIX 'n' MATCH
We have already talked about how to wear your formal wear to work. Now, let's do the other way around which is donning your formals in a way that they fit well with the wedding functions. This is when the art of mix and match enters. Mix and match mean to put together outfits that are different in color, texture, and work in order to build a brand new ensemble. You can't juxtapose just anything randomly, creating balance is immensely significant. One way to do it is by setting a formal white shirt together with a heavily embroidered lehenga. White shirts are utterly versatile so they will match with almost any traditional garment. Another way to do it is by matching your pants with high-low or peplum Kurtis. You can also use your formal blazer by pairing it with a saree for an extraordinary top-off.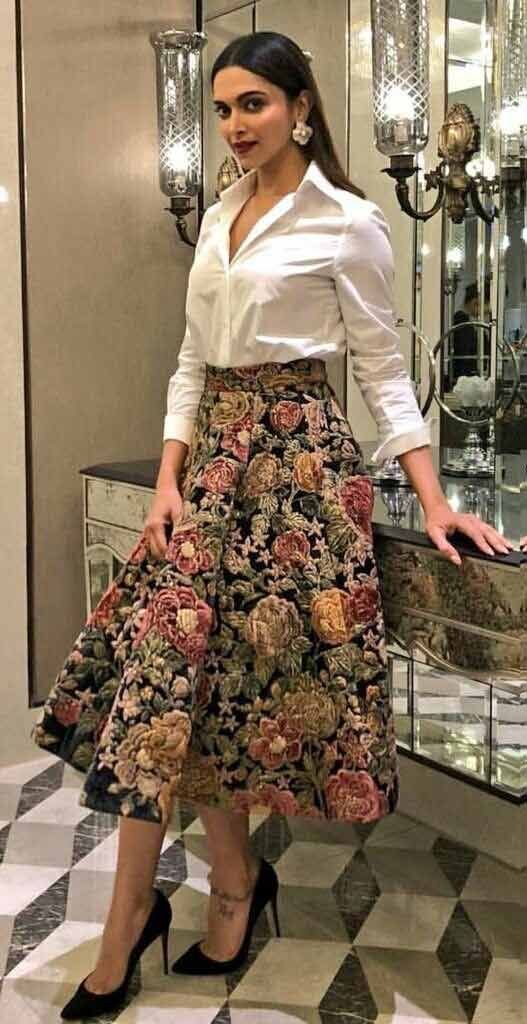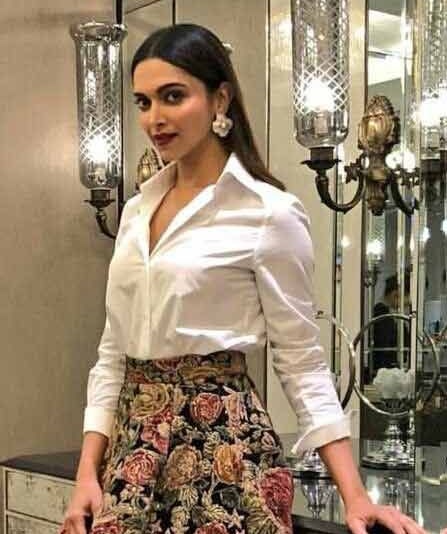 4. BLOUSE? NO. BLAZERS? YESSS!
Want to encourage your inner Instagram influencer? This is for you. Do away with your conventional blouses and start stocking up on your blazers, as they will surely come in handy for you this festive season. You can elevate your blazers with the help of decorative trims like traditional brooches and laces to make them festive-fit. Pair them with complementary lehengas so that both of their qualities are emphasized. Another manner to style your blazer is by coupling it with ethnic flared palazzo pants and an upper-waist embroidered blouse. Keep the hairdo frizz-free and make a neat ponytail to provide steadiness in the overall outfit. Low ponytails will go fantastically with heavy jhumkas or dangling earrings.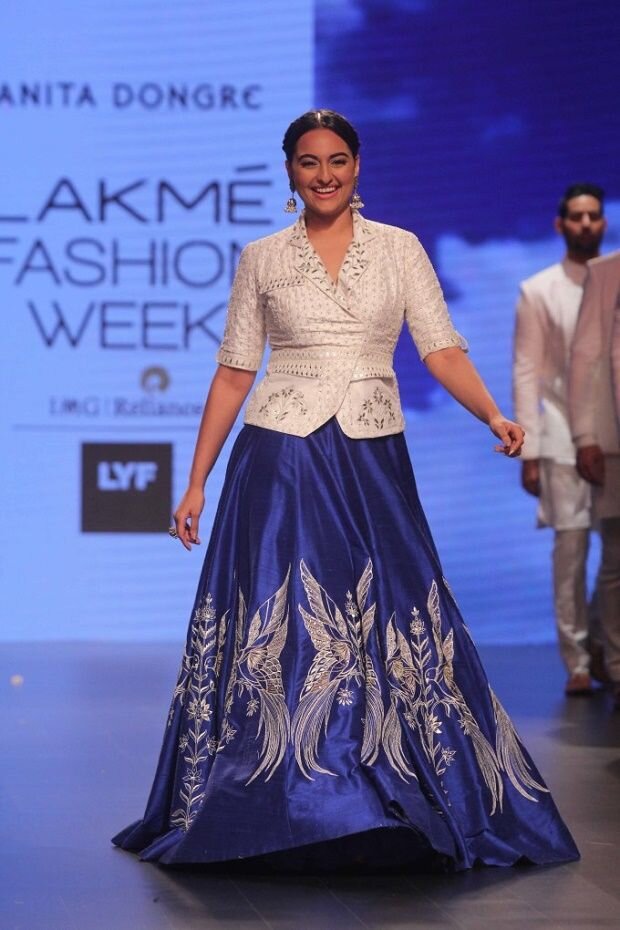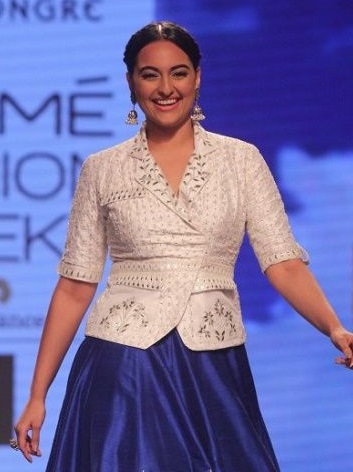 5. THE NOT-SO-FORMAL FORMAL PANTS
Aren't you tired of fixing those multiskilled executive pants with only formal garments? Yes? Then let's explore a new way of wearing it. Dive into your ethnic closet and take out some other adaptable pieces like shimmer blouses, traditional belts, trailed dupattas, and so forth. Affix them together in a pleasing manner, for instance, wear your dupatta as a saree pallu and adjust it with the assistance of a waist belt. You can also ditch the pallu for a long embroidered or printed shrug. Yet another way to do it is by putting it together with embellished peplum blouses for a comfortable yet stylish composition. There are a dozen approaches to upraise the mentioned looks, for example, you can go for ruffled dupattas instead of the plain one for a chic touch or frilled shrugs for a vibrant look.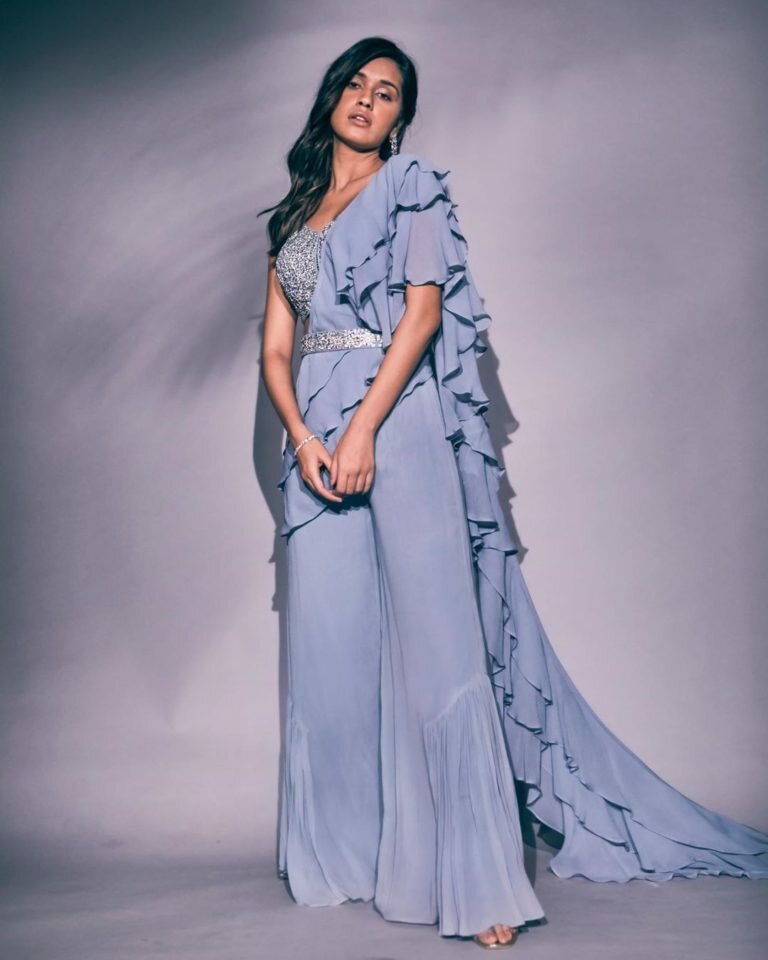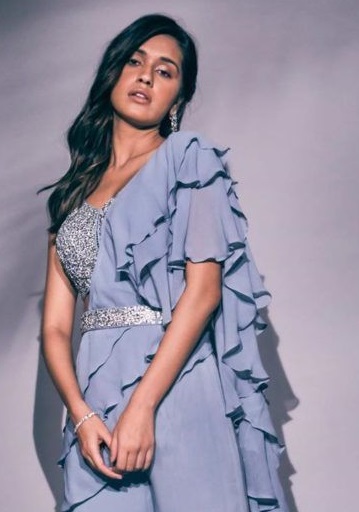 Related Articles:-
Categories: Chokers Articles, Designers Sarees, Earrings, Guest Outfits, Indian Ethnic Wear Articles, Indian Saree Articles, Indian Sarees, Indo-Western Dresses, Lehenga Choli Articles, Long Anarkali Articles, Necklace Articles, Party wear jewellery, Saree Collection, Trousers Suit Articles
Sorry, comments are closed for this item.