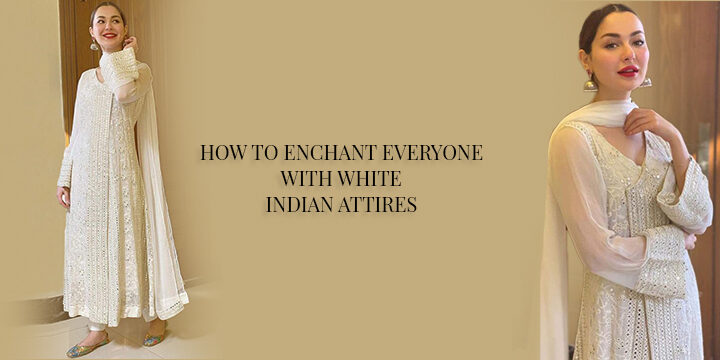 HOW TO ENCHANT EVERYONE WITH WHITE INDIAN ATTIRES
White is not just the lightest color of the palette, it creates a whole new mood. White represents the 3 Ps of human nature, namely, purity, peacefulness, and positivity. The color of achromicity communicates innocence and cleanliness. Although wearing white to Indian weddings is considered unfortunate and hapless, with the emergence of new fashion trends, white also started to become one of the most preferred hues. There are now tons of wedding designs in white that people sought after. Note that the feel and facts about this color are not universally the same, the major instance that shows the difference is that, in western countries, white is the most common bridal attire, while In India, white is worn at funerals. Another reason why white garments are favored so much is that they appear effortlessly sophisticated and elegant. Furthermore, such finery assists in originating neat balance and prepossessing rhythm in the ensemble. There are myriad ways on how to style white attires in a way that fits well with the traditional rituals and happy events, some of which are listed below.
1. DON THE CLASSIC ANGRAKHA SUIT
Angarkha suits are absolutely gorgeous and trendy. The pattern making of this design is different from the regular traditional garments. The front side has two halves, where one half overlaps the other one and at last, is affixed through doris. The style is utterly alluring. To enhance the white angrakha suit, go for white threadwork embroidery to get a chikankari embroidery effect. To make it more wedding-like, go for an angrakha that is embellished with mirror work. You can play with its silhouette to accentuate the garment, for instance, bell sleeves instead of the basic ones, along with decorated or complementary cuffs would definitely steal the show.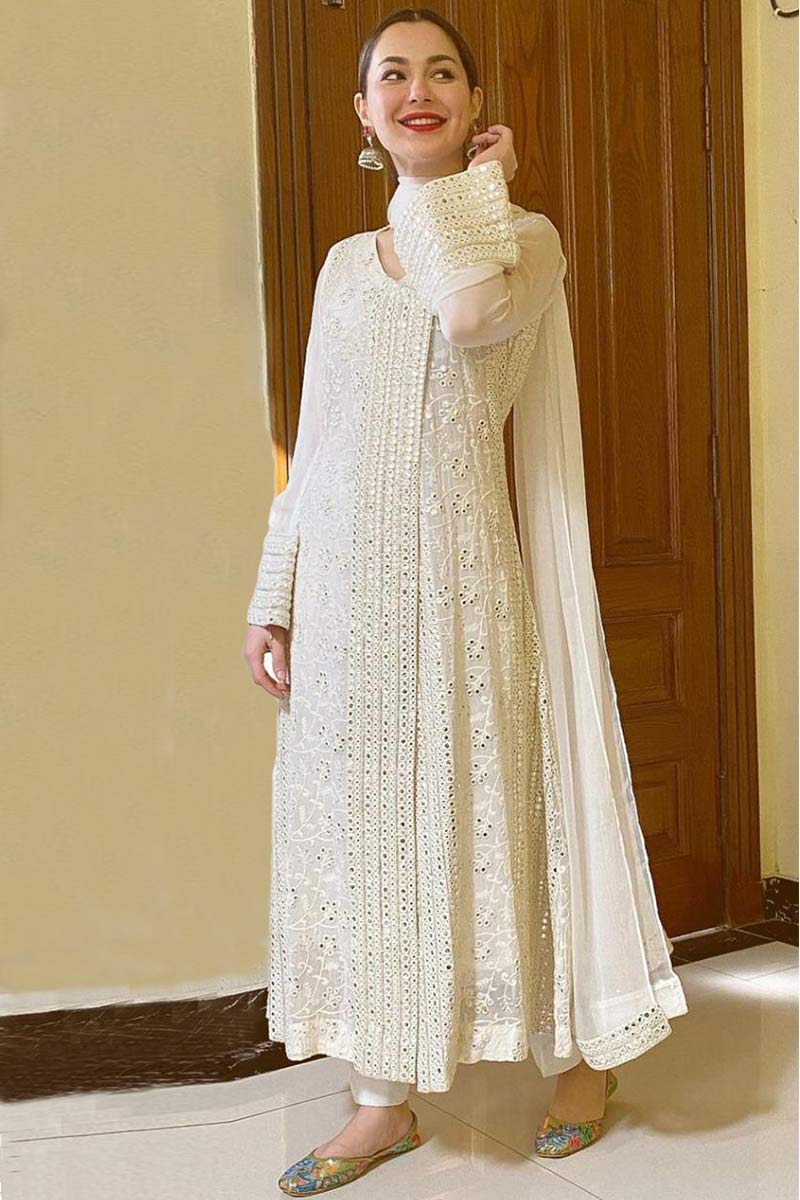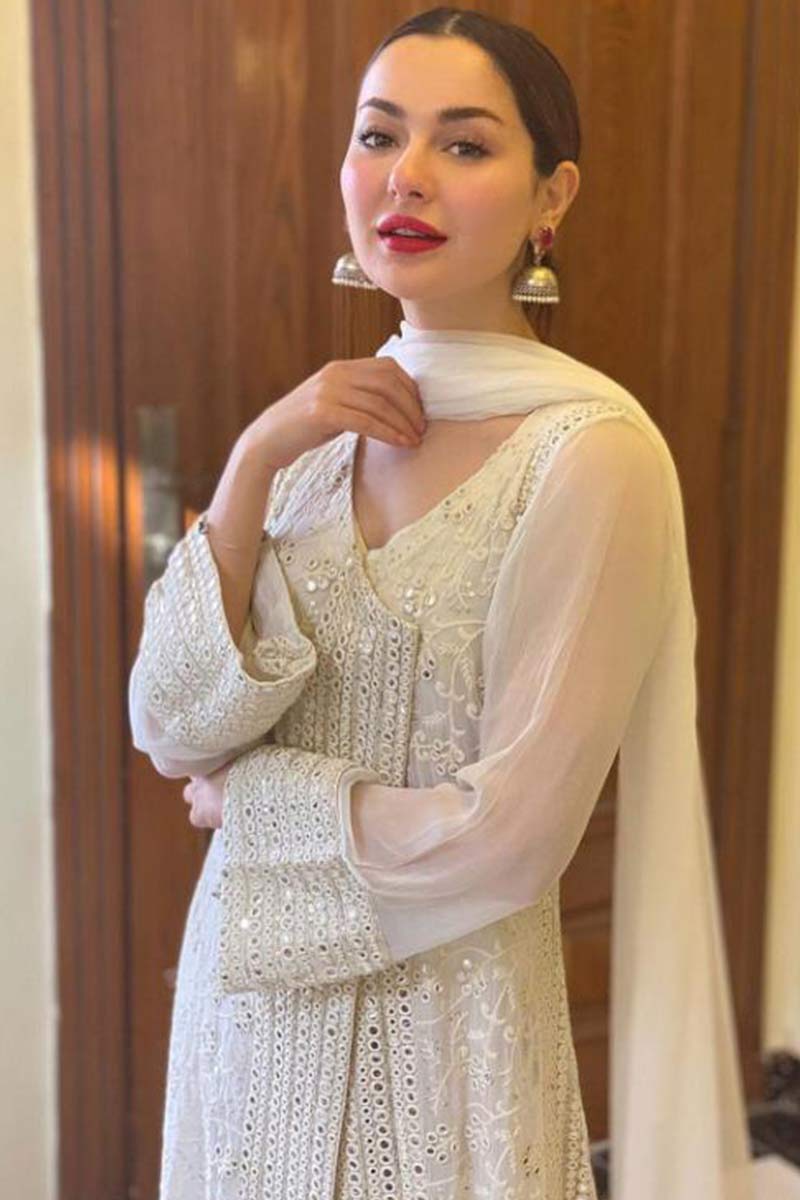 2. LET THE THREADS OF ZARI DO THEIR THING
If white on white does not allure your flair then juxtapose it with traditionally appealing embroideries. One of the most bewitching embroideries of all time is Zari. The embroidery is aesthetically very pleasing. In zari, "zar" means gold. The hand weaving method use gold threads to bring out the beauty of attires. So, if you are planning on wearing a white trouser suit, go for scattered golden zari embroidery on the dupatta and Kurti. Heavily embroidered neckline and dupatta border will uplift the outfit tremendously. If you are wearing a saree, do the same thing and see how the timelessness of zari creates magic for you.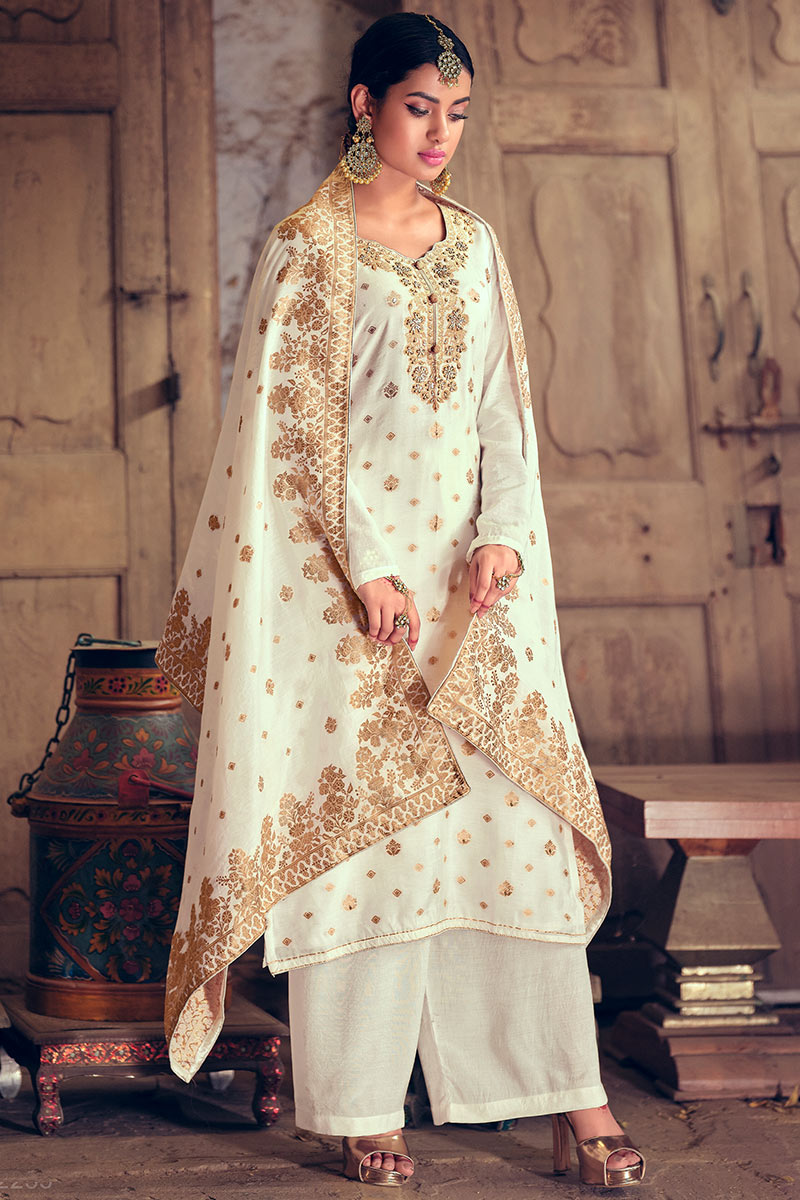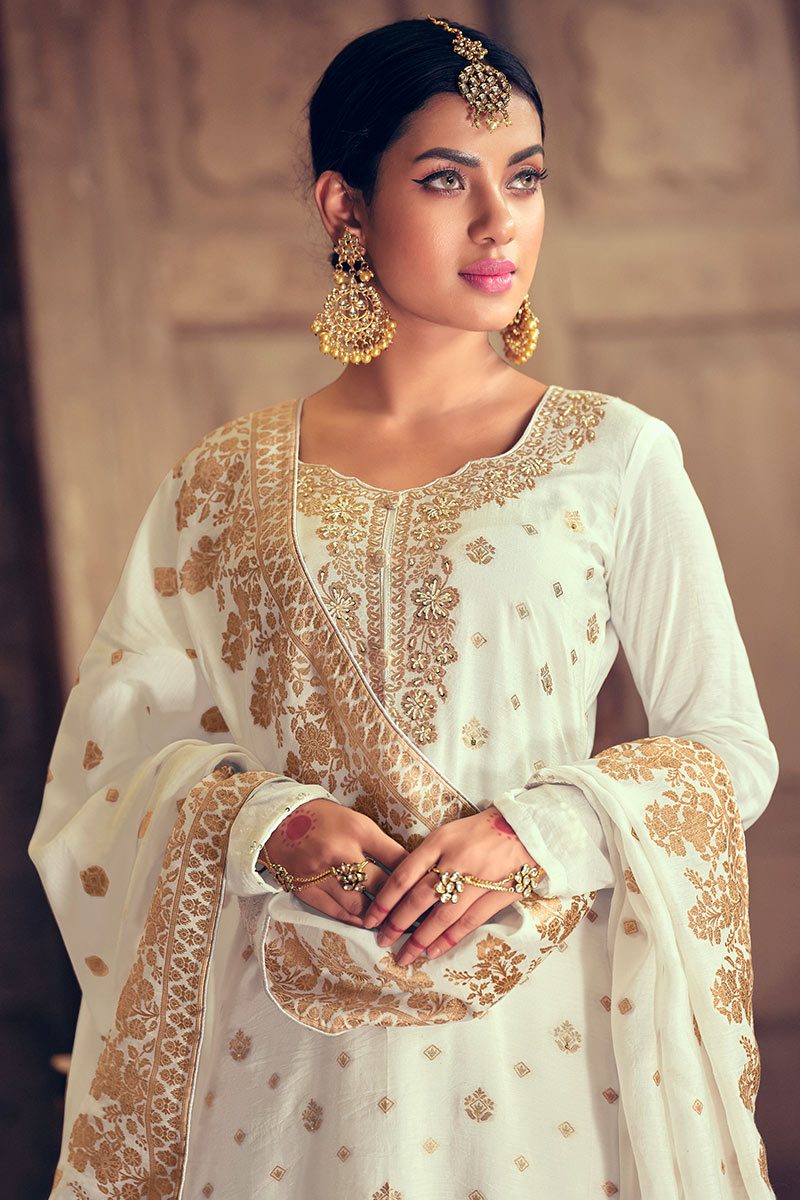 3. TRY OUT SUBTLE EMBROIDERED LEHENGAS
Lehengas are in themselves picturized as a wedding outfit. They come in several frames and can be modified according to personal tastes and preferences. White lehenga cholis are very versatile and can be worn at any wedding. To give an example, if it's your neighbor's wedlock, wear a subtle embroidered lehenga paired with a plain blouse and contrasting dupatta, whereas if it is your real sister's wedding then handpick a heavily embellished white lehenga with a sequin-embroidered blouse and a complimentary dupatta. You can also elevate the subtle lehenga with the help of decorative trims such as statement tassels and hefty borders.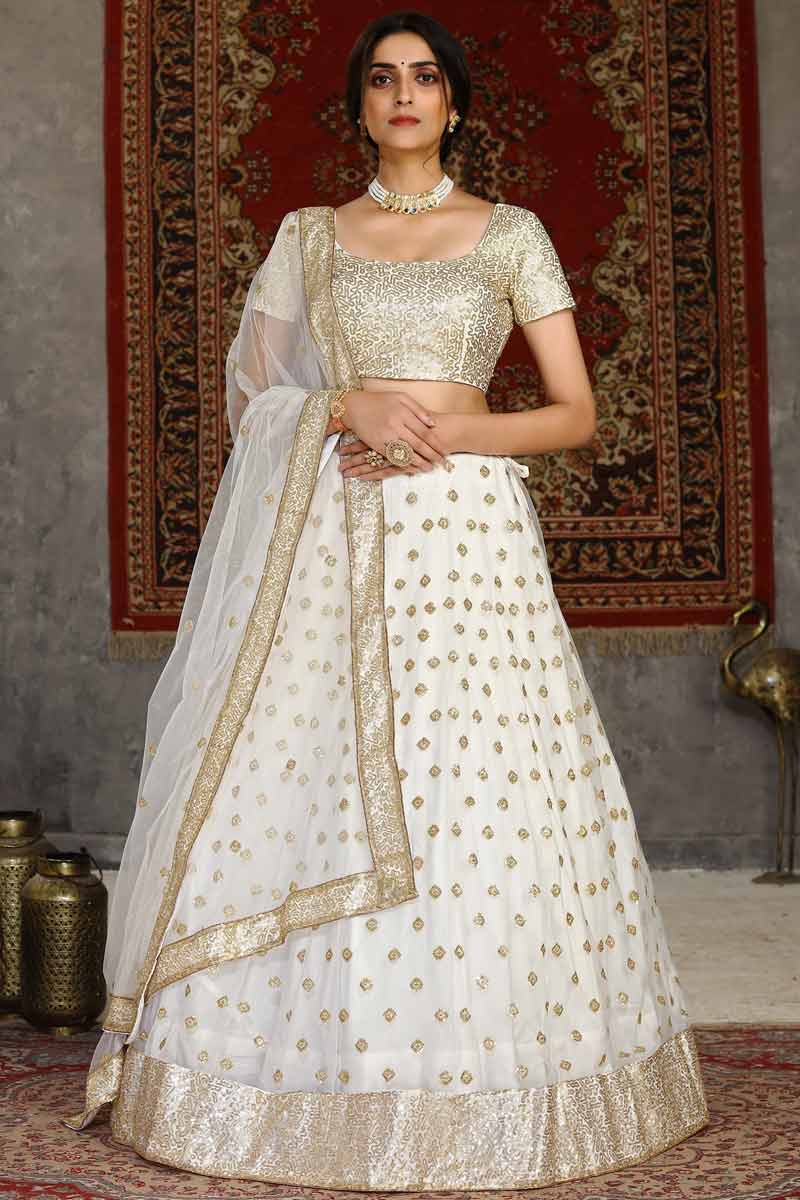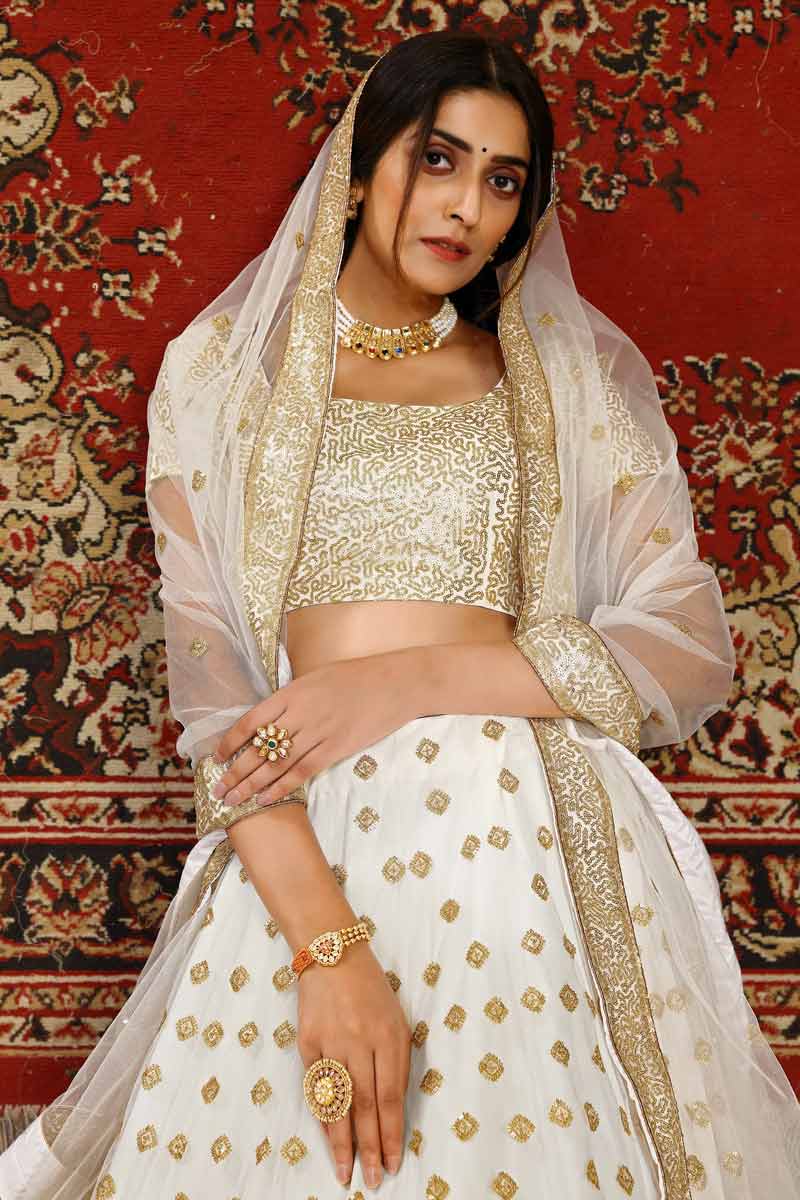 4. DRESS IN PAKISTANI ELEGANCE
We all know how sharara and gharara suits are the pride of Pakistan. The design is loved by people from all over the globe and is in trend for over a long period now. The best part is, sharara suits are well-suited for both casual gatherings and high-end events, the only difference will be the type of work and fabric used. Where cotton white chikankari sharara suits can be don to something as casual as a regular meet-up, zardozi embroidered net sharara suits can be worn to a big fat Indian wedding.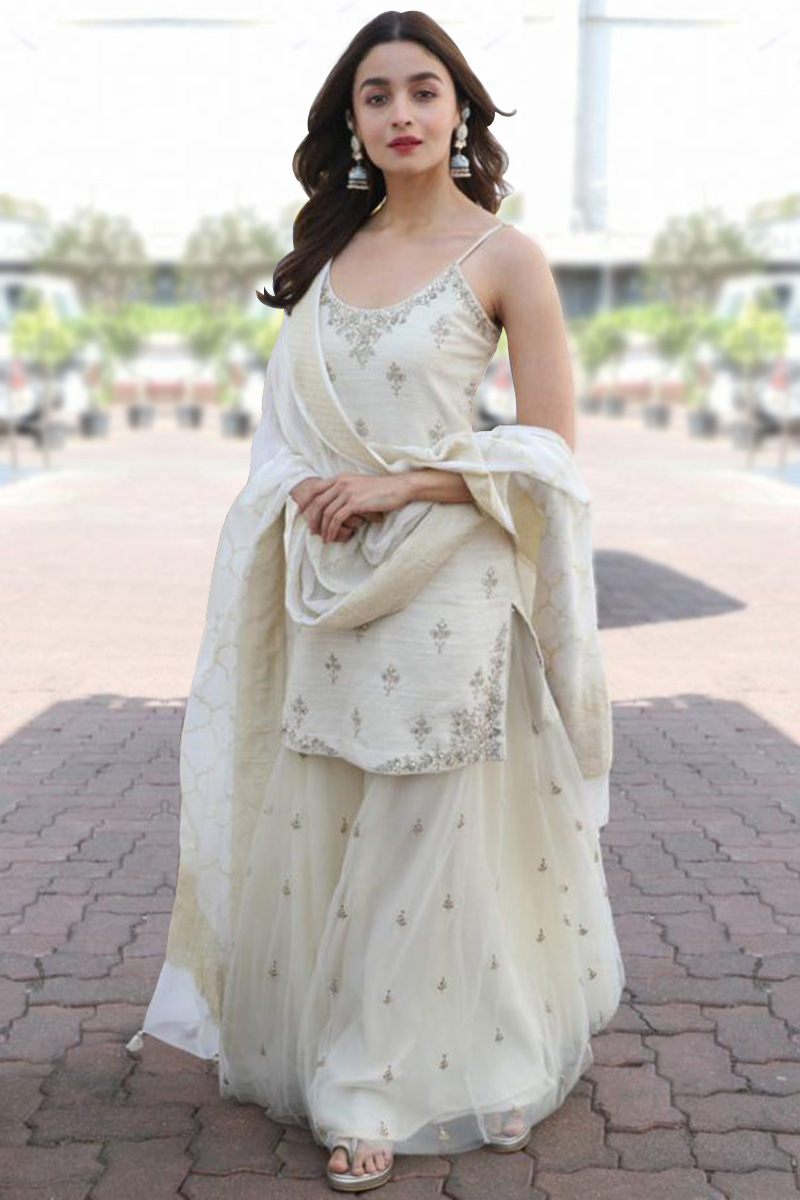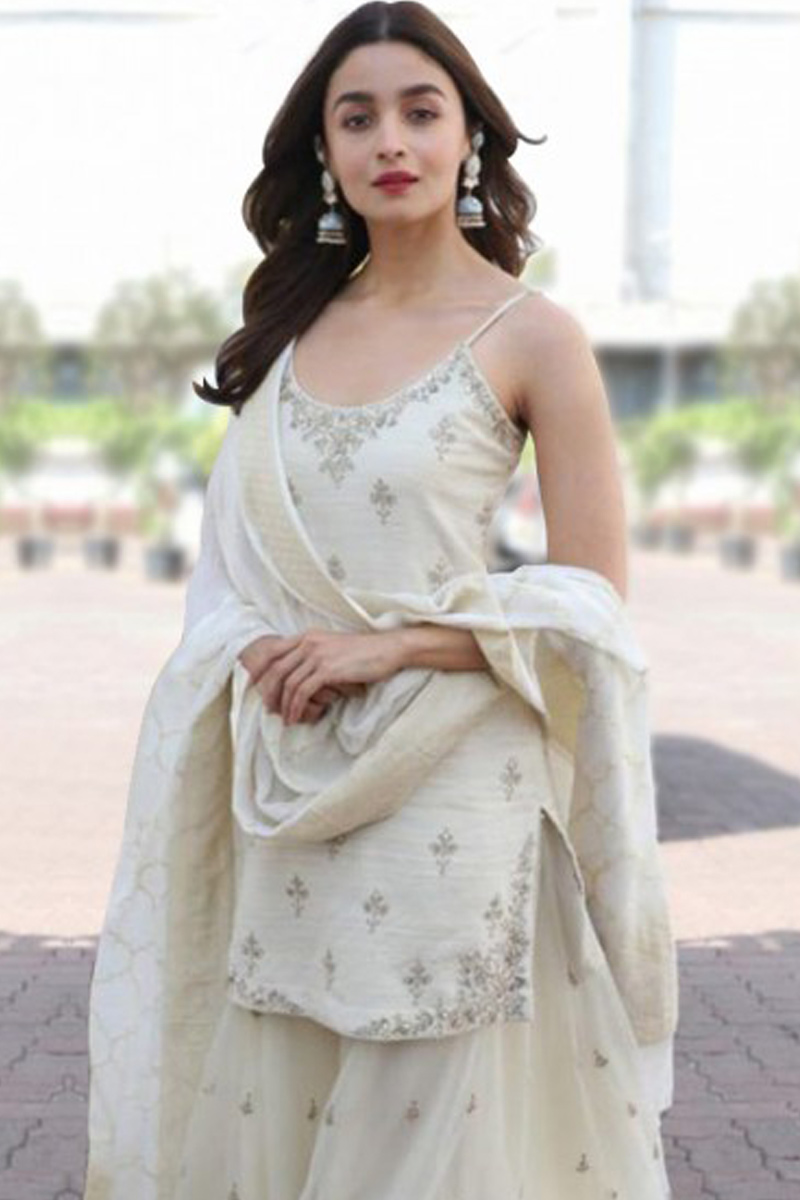 5. GO WITH CONTRASTING EMBROIDERY AND JEWELRY 
This is for those who have a vibrant and spirited personality. If you want to break the monotony in your outfit, the best way to do it is with the assistance of pigmented silk threads. Instead of getting the suit utterly embroidered, lose some spaces unadorned to create a beautiful rhythm. The colorful motifs will highlight your outfit and take it up by a notch. Coming to the jewelry, Kundan sets with contrasting beads will effortlessly make your attire look more peppy and energetic. Resham work and heavily embellished jewelry can elevate any kind of trouser suit.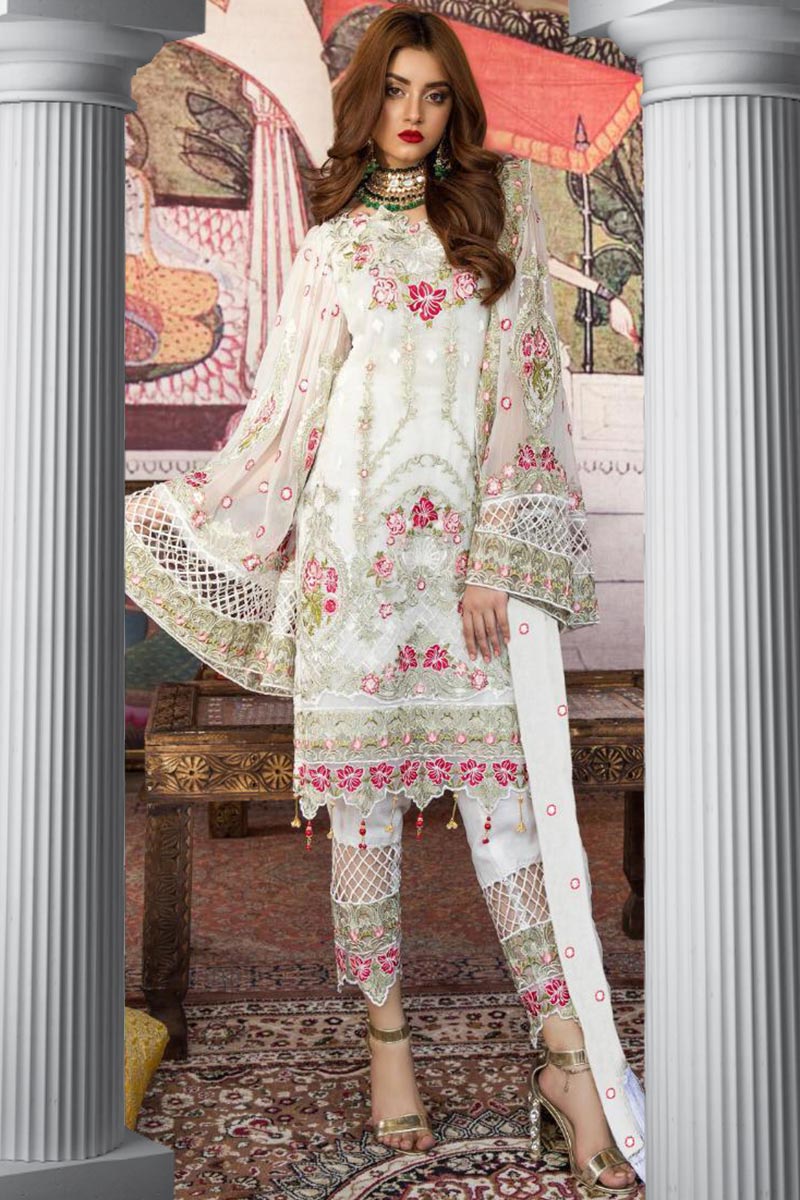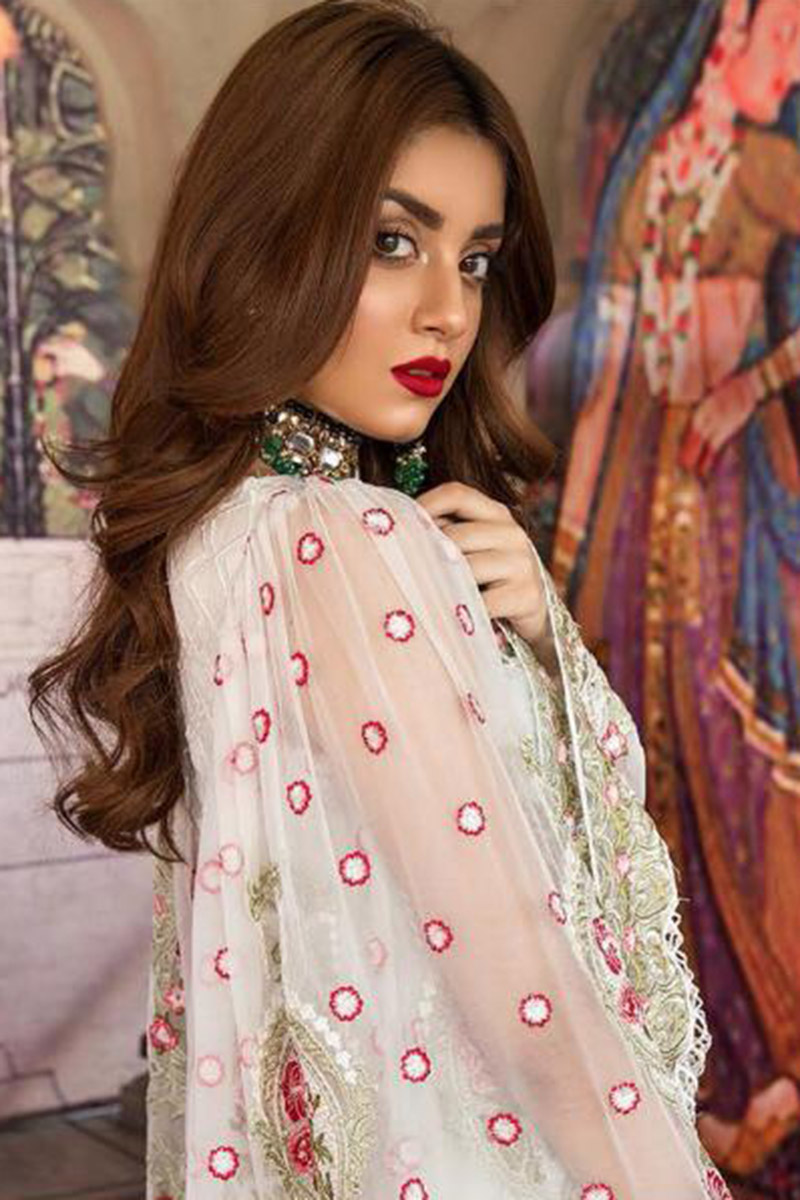 6. DRAPE A SLEEK CHIKANKARI SAREE
Chikankari, the traditional art form that originated from Lucknow, is popular for being graceful and dignified. The white-on-white elegance gives pure justice to sheer materials like georgette, chiffon, mulmul, and so forth. Such sarees are not only traditionally fit but also have the ability to allure everyone around. You can modify it by pairing chikankari with zari embroidery and a complementary saree border. The dainty embellishment looks bewitching and sophisticated. Pair the outfit with pastel-shaded earrings and lastly, make a neat bun to complete the ensemble like a pro.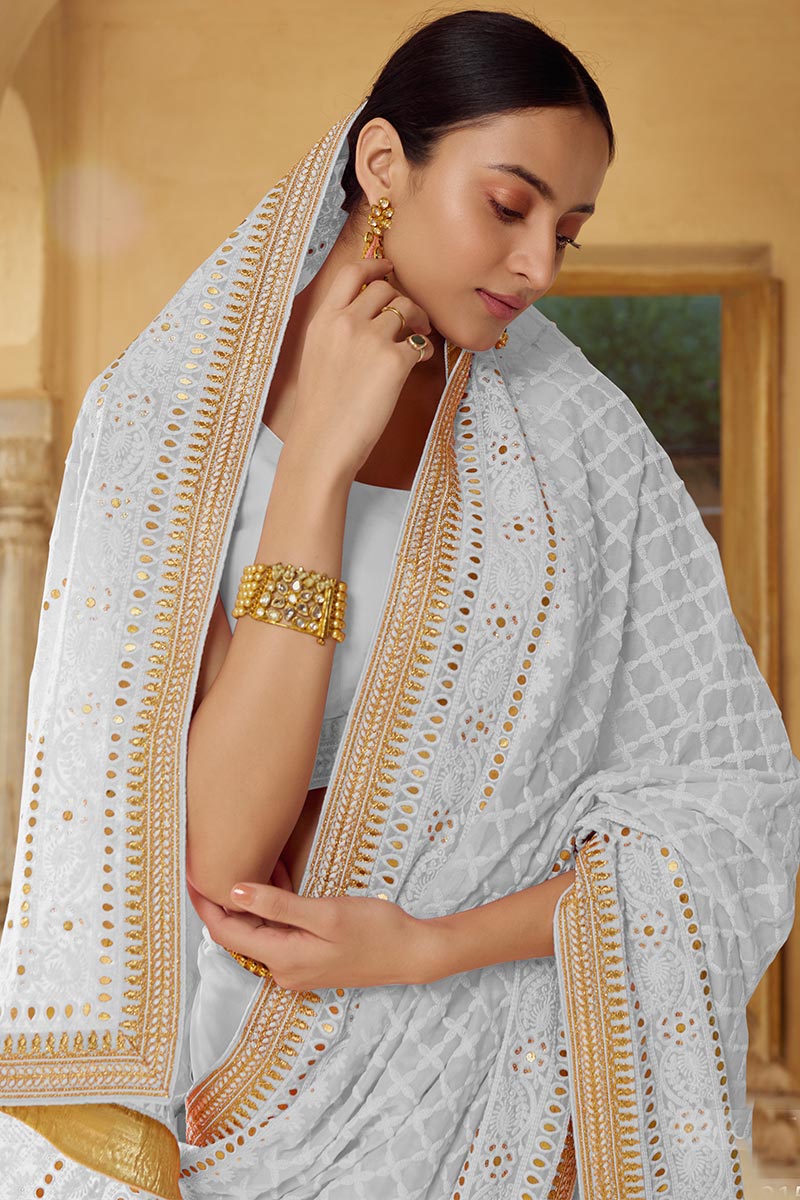 Related Articles:-
Categories: Abaya Anarkalis Articles, Abaya Collection Articles, Anarkali Suit Articles, Bollywood Dresses, Bridal Saree Articles, Chokers Articles, Designer Lehenga Choli Articles, Guest Outfits, Indian Ethnic Wear Articles, Indian Saree Articles, Lehenga Choli Articles, Pakistani Dresses Articles, Pakistani Outfits Articles, Party wear jewellery, Sharara Suits Articles, Traditional Indian Jewellery, Trousers Suit Articles, Wedding Lehenga Articles, Wedding Sarees Articles
Sorry, comments are closed for this item.