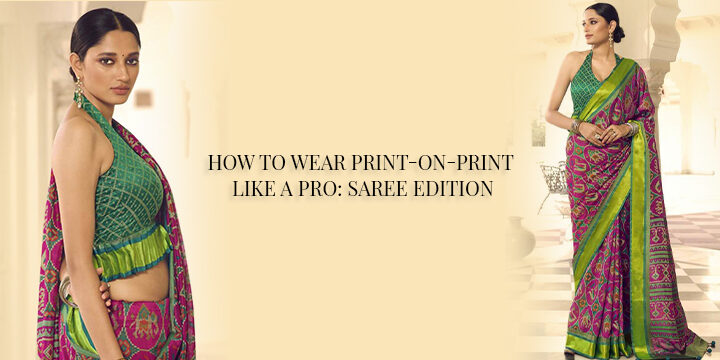 HOW TO WEAR PRINT-ON-PRINT LIKE A PRO: SAREE EDITION
Print-on-print fashion is by far the trickiest trend to comprehend, but once you get a hold of few rules, you will be all set to ace it. Print-on-print basically means to whisk different patterns in a way that the outcome looks desirable and eye-catchy. Prints in themselves are a kind of an accessory. A rule of thumb to keep in mind while opting for print-on-print is that you should always have at least one color in common. Now, there are two approaches to put this principle into use.
Stay in the same color palette.
If both the prints share at least one hue, do the color contrasting.
Setting this trend in the Indian market is a lot easier. As it is the saree edition, you just have to ponder upon two prints, one for the blouse and the other for the saree. The task is to assign prints that would fit well with the scale, as in setting together with the best-fitted print for saree that covers 85% scale followed by 15% scale, which is covered by the blouse. We have written down few amazing facts that would assist you well in doing the print-on-print trend on saree.
1. CHOOSE THE RIGHT PATTERNS
If the chosen prints are not complementing each other, then doing the entire print-on-print fashion is futile. The shape, color, and structure of the two different prints should match each other. Try to create rhythm by setting together prints of contrasting sizes. If one print is loud, let the other one be subtle. The reason behind this arrangement is that both loud prints together would be negatively striking, whereas both the united subtle prints would be monotonous. For an utter traditional saree, go for coordinated indigenous prints of India, for instance, something as intricate as ajrakh print will tune amazingly with something as simple as dabu print. Pick the base color of both the saree as well as the saree blouse from the same color palette.
2. DO NOT GO OVERBOARD WITH THE PRINTS
It's best to not channel your creativity too much because more the merrier is not applicable when it comes to prints. more the prints, the more complicated it will get for you to manage and style them. Just two different patterns are enough for the sole ensemble. You cannot juxtapose prints randomly. Creating balance and unity is immensely important. Both the principles are interconnected to each other. Unity would originate when both the prints will appear to be part of one outfit, and that won't happen without the appropriate equilibrium. Speaking of which, to frame the impeccable balance, set together a basic as well as classic print with the bold and vibrant one. To give an example, for a saree, match an ordinary striped print with a monumental or ancient border.
3. OPPOSITES ATTRACT THEORY MIGHT COME IN HANDY FOR YOU
The law of attraction in science is indeed right when it comes to print-on-print theory. The prints that clash with each other are way more appealing than combining two prints from the same category. So go ahead and do not be afraid to carry out that little pattern collision. Even when you are handpicking prints from opposite edges, the outfit at the end must look united. There are thousands of prints out there for you to choose from, so scrutinize properly while selecting the prints. Indigenous prints of India are the best bet for your ethnic sarees as they are shepherd by the extremely rich culture and bewitching vibrancy. You can put together distinct colors, shapes, textures, patterns, and/or silhouettes for an edgy look.
4. CREATING BALANCE IS ALSO IMPORTANT
To lay down the idea of balance in few words, balance is the correct distribution of visual weight in design. The lines and colors in a print carry a weight that must not be taken for granted. The only way to segregate the elaborate pattern is through space. For instance, if your saree blouse has intricate geometric patterns then go for a relatively simpler and less-striking print on the saree like faded leheriya or a tie-and-dye print. On the other hand, if your flair tells you to choose a detailed bandhani print for a saree then let your saree blouse have a minuscule bagh print. The most popular and noteworthy way to create balance is by putting the same printed border on the saree as it is on the saree blouse.
5. LET YOUR OUTFIT TAKE ALL THE LIMELIGHT
Lastly, allow your garment to steal the entire show and stand out without letting it share its aura with the other segments of the ensemble. Jewelry and makeup can exert a major influence on the concluding composition, so keep it minimal yet classy. Print-on-print in itself is extraordinarily striking and the amalgamation of two or more prints with hefty jewelry and bold makeup will give overdramatic results. Hence, blending the finery with uncomplicated makeup and lightweight jewelry is recommended.
Related Articles:- 
Categories: Bollywood Dresses, Designers Sarees, Earrings, Indian Ethnic Wear Articles, Indian Saree Articles, Indian Sarees, Indo-Western Dresses, Necklace Articles, Party wear jewellery, Saree Collection, Wedding Sarees Articles
Sorry, comments are closed for this item.