The most gleeful ceremony that breathes life into the entire wedding festivity is none other than the Haldi Ceremony: the epitome of zest and playfulness of all the wedding ceremonies. The Haldi ceremony came into being as a purification and beautification ritual to ensure that the couple glows before they step up for the wedding. What started as an auspicious ritual is now one of the most happening ways of celebrating the love and happiness of a wedding! Bride and groom seated on silver chairs amidst family and friends with soulful strokes of Haldi paste across their cheeks, hands, and legs is truly a sight to the sore eyes, and this merry Haldi environment overflowing with fun is sure to melt your heart and engulf you in a wave of emotions.
Blessings for the couple in form of a Haldi mixture often blended with either water, milk, rose water, sandalwood, curd, and other herbs are spread liberally over their faces, arms, and legs. The auspiciousness of this ingredient and its color bring prosperity to the couple to start off their new life together.
WHAT TO WEAR AT HALDI CEREMONY?
That was all about the glowing religious ceremony, now let's talk fashion! You need a perfect silhouette, appropriate color, and design for your stunning Haldi dress. You should not look anywhere other than Andaaz Fashion as it has curated some head-turning dresses for you to slay at the Haldi function.
Some tips for choosing the ultimate Haldi outfit.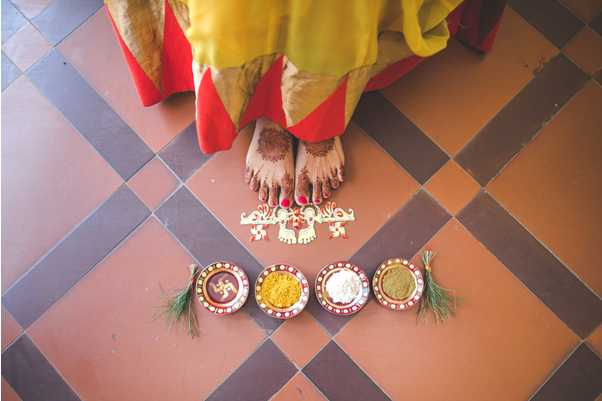 COLORS – SHADES OF SUNSHINE
No color other than yellow looks good for a Haldi ceremony. So bask in the royal hues of the bright yellow colored dresses and own the day like a boss. You can even adorn fresh and unique shades like lemon yellow, mango yellow, and even neon yellow to add quirkiness to your look. You will look like a dauntless beauty in golden yellow-hued Indian Haldi Ceremony outfits. A warm yellow-ombre shaded Haldi outfit for bridesmaids is going to add more glint to the vibrant Haldi vibe. Whether you are seeking a gorgeous Haldi dress for the groom's sister or the bride's sister, auspicious yellow-orange-colored outfits should be your first and foremost pick. The serene pastel is a nice trend to play with for the Haldi function dress where you compliment the yellow shades around you while looking, Hatke! Pair yellow color with contrasting bright colors like hot pink, orange, mint, and even floral prints to add a touch of shimmer to your outfits. You might ask why Andaaz Fashion buy Haldi function dresses online because their vivid and diverse color palette features every yellow and pastel color which you can think to adorn on a Haldi Ceremony!
SILHOUETTES
Dive into a sea of options to choose the design for an Indian Haldi Ceremony outfit. Whether you are the contemporary type who has a thing for Indo-western silhouettes, a hardcore lover of elegant nature prints, or someone who goes weak in the knees on seeing ethnic traditional outfits, Andaaz Fashion is one of the few trustworthy sites that have got all types of Haldi function dresses covered for you. Printed floral lehengas, embroidered Chanderi salwar kameez suits, embellished flowy anarkalis, and evergreen sober blouses and flared skirts with exquisite borders are the eternal top choices for the women who want to keep it simply traditional, ethnic yet classy. You can never go wrong with a Saree! Countless trendy styles of draping make this outfit a front runner as a Haldi function dress and for other Indian pre-wedding ceremonies as well. Ladies who want to break away from the usual and try something more interesting for the Haldi function have a variety to pick from. Dhoti pants suits, pre-stitched pant sarees, crop tops with palazzos, long capes with a skirt, asymmetrical blouses paired with mermaid cut lehengas, peplum style blouses with shararas, and ghararas are going to take your look notches high. Elevate your Haldi look with Andaaz Fashion's hand-picked Haldi dresses for bridesmaids, bride's sister, groom's sister, and guests to leave everyone smitten by your personal glam and style!
 Lehenga Choli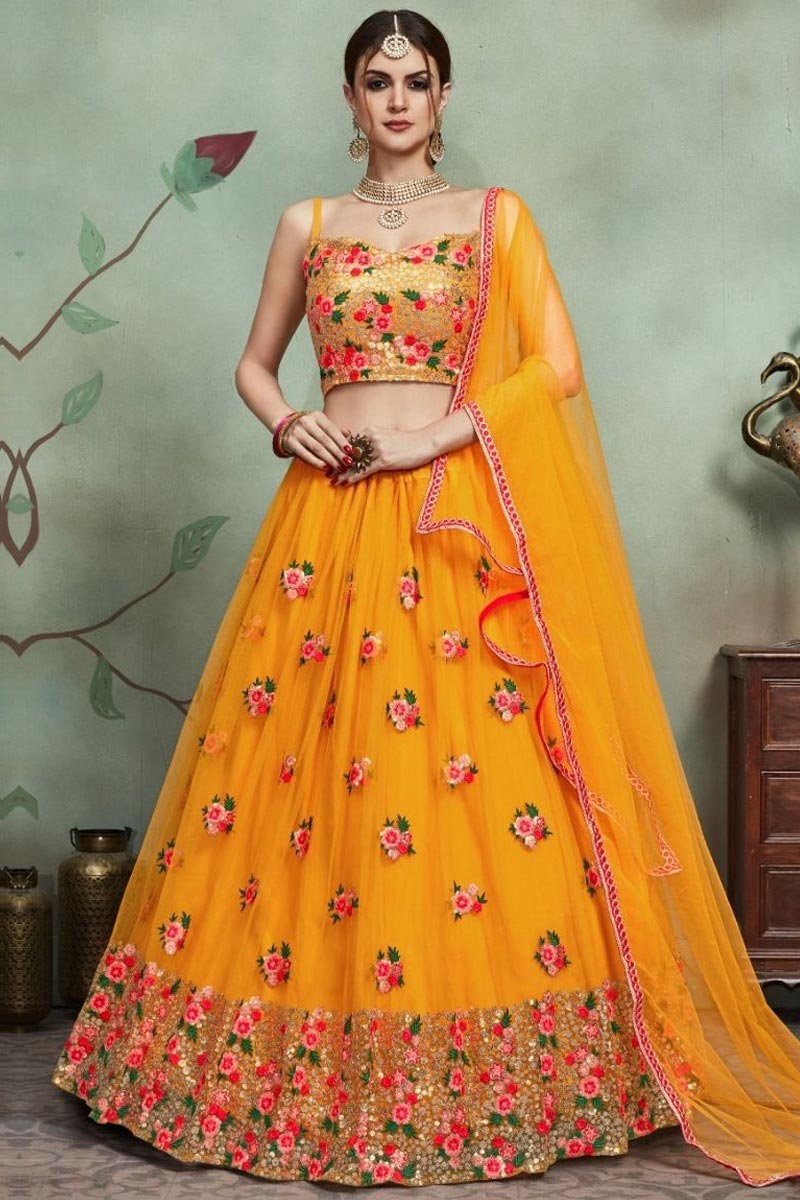 Anarkali Suits
 Patiala Suits
Indo Western
ACCESSORIES
You can also add some quirky accessories like a floral necklace and earrings or contrasting Gota ornamentation for that extra pop of color and spark. To shine and sparkle keep the jewelry and makeup light and on point as the Indian Haldi event mostly takes place in the morning.
           
BEST PLACE TO BUY HALDI FUNCTION ENSEMBLES ONLINE
Outshine others with utmost vogue during the Haldi ceremony. Dauntless canvas of quirk and elegance is what adds an electric charm to Andaaz Fashion's Haldi outfits collection their choice of vibrant colors, exquisite embroidery and embellishments, contemporary fabrics, bold motifs, extravagant patterns, and latest designs makes their creation ideal for the joyous wedding celebrations like Haldi Ceremony.
Categories: Abaya Anarkalis Articles, Abaya Collection Articles, Anarkali Suit Articles, BRIDAL ANARKALIS ARTICLES, Bridal Dresses Articles, BRIDAL LEHENGA ARTICLES, Bridal Salwar Kameez Articles, Bridal Saree Articles
Sorry, comments are closed for this item.