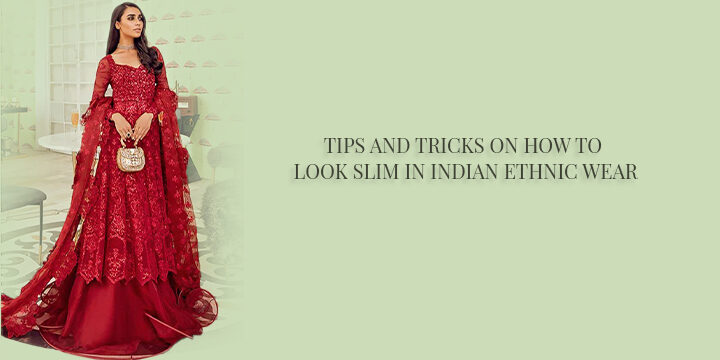 TIPS AND TRICKS ON HOW TO LOOK SLIM IN INDIAN ETHNIC WEAR
We all get a sense of self-assertiveness when we put on a garment that accentuates our best features and de-emphasizes our little foibles. Let's accept the fact that losing weight is not an easy process. It's a series of never-ending carb sacrifices, gaining muscle strength at the gym every day, ceaseless running, and whatnot. It takes some time and loads of energy, nevertheless, it is worth the wait, but what about the times when the wedding or any other occasion is around the corner, and you haven't exactly started with your vigorous diet yet? The answer is as easy as falling off a log, you hinge on your clothes to make it alright for you. There are certain tips and tricks for you to ponder upon before you pick out a garment that would make you look slim and gorgeous, some of which are listed below.
1. CHOOSE SILHOUETTES ACCORDING TO YOUR BODY-TYPE
Silhouette of the garment can smartly and utterly change your framework. People usually take plus-size as a hollow section in the body-types category, but that is simply wrong. Plus-size bodies are also segregated into distinct shapes. Given below are some most common plus-size body shapes and silhouettes that would suit each one of them.
Apple Body-Type: 
Apple-shaped women have ample busts followed by protruding tummies and slender legs. To proportionate this form, play down the torso area. Basic and flounce sleeves would make the arms look slimmer, whereas open necklines like scoop and sweetheart will make the bust look smaller. It's best to go for plain elementary blouses as exaggerated silhouettes will make you look wider.
Pear Body-Type: 
Pear-shaped women are the exact opposite of apple-shaped women. They have smaller busts, narrowed shoulders, thin waist, and wider hips. To balance this body type, choose blouses with square or boat neckline and go sleeveless or with basic short to half-length sleeves. Pick-out attires with minimal flare.
Hourglass Body-Type: 
You are vastly lucky if you are an hourglass because almost everything will suit you. To look slimmer with this body type, go for V necklines and stick with basic sleeves. Angrakha and panel-cut Anarkali suits would complement this shape very well.
Diamond Body-Type: 
If you're diamond-shaped, then you will have a round For such body type, pick out loose clothing that would disguise your wide midriff, such as empire-line gowns, a-line Kurtis, and so on.
2. DARK SHADES ARE YOUR BEST FRIENDS 
Wearing dark colors will gloss over your curves like a pro. Black, the darkest color of the spectrum is your best bet as it will make you appear slimmer as well as elegant. If black does not fit with the occasion or your tone, there are certain alternatives like violet, emerald green, chocolate brown, navy blue, plum purple, ruby pink, and so forth the would work just right. Choose the color scheme wisely, for instance, a monochrome scheme would be a shrewd approach as the up-gradation or degradation in one color will make you appear taller and hence, slimmer. Apart from that, color-blocking dark shades can also make you appear thinner.
3. LESSER THE FRILLS, BETTER IT IS
Ditch the frills if you want to look slim in Indian ethnic wear. Frills are rather suited for women who don't have prominent curves and are looking for the fashion elements that would add to their visual weight. Frills or gathers help in giving an illusion of curves, so if you want to play it down then go for something sleek with gentle fall as well as a drape. Lustrous materials like satin and silk will give you the desired result. If you have a heavier bust then do not opt for puffed or bishop sleeves, instead, go for the basic ones with zero gathers. Coming to the lehenga silhouette, cast aside heavily gathered net lehengas. Paneled-cut lehenga is your best bet to de-emphasize your curves, as the more the panels, the leaner you will appear.
4. KNOW THE PSYCHOLOGY BEHIND THE PRINTS
There are two basic rules when it comes to prints and the psychology behind them, namely;
Horizontal lines and bold prints will make you appear wider and shorter.
Vertical lines and intricate prints will make you appear slimmer and taller.
To fit it in accordance to the different body types, divide your vision instead of looking at your body as one whole unit, for instance, if you have a heavier bust and want to proportionate it to your comparatively leaner hips, pick out a dark-shaded plain blouse and match it with a printed lehenga or any other bottom wear. On the other hand, if you have wider hips and a smaller bust, do the complete opposite. Keeping height as the basis, if you want to appear taller, vertical stripes or motifs printed in a gradation method would add an extra few inches to your height, whereas if you want to appear shorter and wider, befriend horizontal stripes along with big and bright motifs.
Related Articles:-
Categories: Abaya Anarkalis Articles, Border work Saree, Bridal Saree Articles, Churidar Suits Articles, Designers Sarees, Earrings, Guest Outfits, Indian Ethnic Wear Articles, Indian Saree Articles, Lehenga Choli Articles, Long Anarkali Articles, Necklace Articles, Saree Collection, Trousers Suit Articles, Wedding Guest Indian Dresses Articles, Wedding Sarees Articles
Sorry, comments are closed for this item.