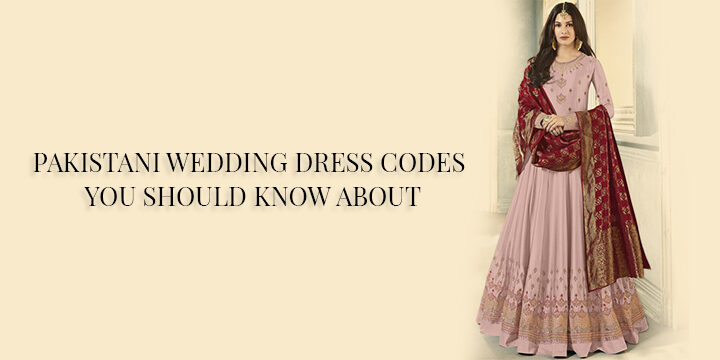 PAKISTANI WEDDING DRESS CODES YOU SHOULD KNOW ABOUT
Pakistani wedlock is one of the most gaze-worthy and elegant ceremonies. What makes it even more elegant is its traditional finery. Every fold of their attire is graceful and magnificent. Nikah, the most important event, is a beautiful amalgamation of rich culture, aesthetic décor, and sophisticated garb. Muslim designers know how to set together subtlety with grace. If you've been invited to a Pakistani wedding and you are not familiar with what outfit to don in what function, we are here to put you out of that skepticism. Listed below are event wise dress codes for you to ponder upon;
OUTFITS TO WEAR IN DHOLKI
Dholki is a melodious evening filled with dance performances, gossips, and singing, all affixed with the sound of dhol, a wooden drum. For this ceremony, women doll themselves in vibrant and fancy attires. You'll see very little of greys, beiges, and pastels in this event. Salwar kameez, long cholis, frock-style kurtas, and other comfortable garments are preferred here. As it is an evening function, bright hues such as fuchsia pink, aqua blue, and purples would do complete justice to the theme. Jewelry is a must. Heavily embellished earrings followed by thick bangles and beautiful chains will be a great addition to the ensemble.
OUTFITS TO WEAR IN MEHENDI
Muslim henna nights are very similar to Indian henna nights. They don't go hefty on the makeup as well as the outfit. The color codes for the evening are not restricted to just a few shades, nevertheless, dark color palettes entailed with greens, yellows, and oranges are recommended. Circular cut suits and other flowy attires paired with decorated khussas (Juttis) would be an ideal fit as there is going to be a lot of foot-tapping. Flower jewelry is quite common and customary for this occasion, so do not forget to invest in that.
OUTFITS TO WEAR IN MAYUN
Mayun or uptan is yet another fun-loving function. Yellows and greens are the most customary and traditional hues, out of which yellow is the most exhorted one as it won't let the turmeric stains appear prominently. Salwar kameez, shararas, and ghararas in fluid fabrics like chiffons and georgettes will be your best bet to get the savor of both comforts as well as fashion. Marigold garlands and other flower jewelry will be well-suited here.
OUTFITS TO WEAR IN NIKAH
Nikah, the ultimate goal for which everyone worked their fingers to the bone is here. This is when you can pick out the most embellished outfit for yourself. All the glamorous and intriguing finery is saved up for this occasion. Here are some of the wedding outfit ideas you might like;
 OUTFITS TO WEAR IN WALIMA
Walima or Reception is a post-wedding ceremony. There will be cameras in every direction, so hop on to picturesque and glistening outfits of yours. Greys, beiges, pastel pinks, and goldens are some of the superior colors for this event. You'll see shimmer and sequins everywhere. If you want a unique and dainty shift from the regular traditional wear, then match your peplum blouses with long flared lehengas or pair a long choli with flowy pants. You can also choose to go for unordinary sleeves and necklines when it comes to Kurtis and gowns.
Related Articles:-
Categories: Abaya Anarkalis Articles, Anarkali Suit Articles, BRIDAL ANARKALIS ARTICLES, Bridal Dresses Articles, BRIDAL LEHENGA ARTICLES, Earrings, Pakistani Dresses Articles, Pakistani Outfits Articles, Party wear jewellery, Salwaar Kameez Articles, Trousers Suit Articles, Wedding Anarkali Articles, Wedding Guest Indian Dresses Articles, Wedding Lehenga Articles
Sorry, comments are closed for this item.