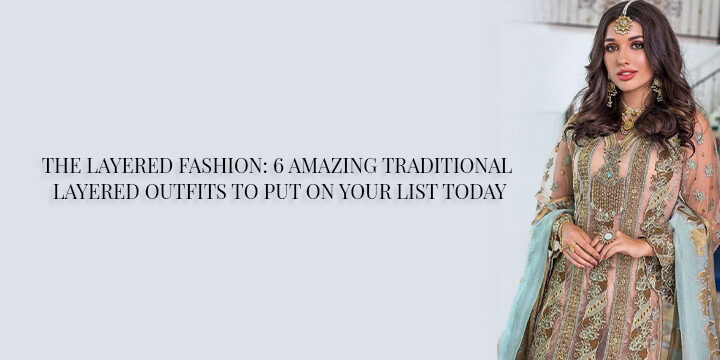 THE LAYERED FASHION: 6 AMAZING TRADITIONAL LAYERED OUTFITS TO PUT ON YOUR LIST TODAY
Layering has become one of the most preferred trends these days. It evolved in western countries and was later adopted by Indians. It's an exquisite method to upgrade your style. It does not start and stop at keeping together multiple garments. There are lots of theories and gray areas involved that are highly notable some of the prominent ones are balance, color, proportion, and unity. One way or the other, they all are intertwined with each other.
Balance in design means to allot the garment according to its visual weight. In a layered fashion, you've to determine the weight of each garment and assemble it in a way that the resulting look communicates a sense of equilibrium.
Color express more than just the hue of the garment. It generates emotions and sentiments. Where warm colors like red and yellow would spark excitement, cool colors like blue and violet symbolize peace. Choose the right colors to neither overdo nor understate the outcome.
 Proportion in design tells how lines and shapes have the ability to divide the garment. The elements of a proportionate outfit would fit well with each other.
Unity in a garment means that different and contrasting elements should pair to look like a part of one outfit, thereby creating wholeness and harmony.
Keeping in mind the above principles, listed below are 6 traditional layered outfits that would stun everyone around.
1. FRONT-SLIT STYLED TRIO
Front-slit outwears are utterly in vogue. If you have a basic skirt-crop top set, couple it together with a long adorned gown for an embellished result. Fluid and translucent materials like net, georgette, and chiffon would work impeccably with the beautiful silver or golden threads of Zari. Instead of going out-and-out embroidered with the transparent outwear, create a sort of harmony by distributing embroidery by the amount of flare. For instance, if it is a flares skirt, keep the embroidery heavy, while for fitted top wear, go a little lighter.
2. EMBELLISHED JACKET WITH A CONTRASTING SUIT
Jackets are the most attainable and versatile garment to layer your traditional outfits with. You can pair it with a saree for an offbeat ensemble. To upraise it a bit more, unconventionally drape the saree. For suits, you can give more emphasis on the jacket by hand-picking eccentric silhouettes such as cape sleeves, mandarin collar, bishop sleeves, and so forth. Play with the colors. Go for a contrasting suit in a lighter shade, so, the jacket seems to highlight more. Coming to the embroidery, as the color chosen for the jacket is already dark, embroideries like zari or Dori work look striking, whereas, for the trouser suit, which is in light shade, subtle embroidery on the neck with the hint of bright silk thread is would appear rhythmic.
3. EMBROIDERED NET KURTI OVER AN INDIAN JUMPSUIT
An Indian jumpsuit is rare to find, but with the growing demand for indo-western outfits, they're now available in many online fashion portals. You can set it together with a net embroidered Kurti to make the composition look wedding-ready. Fashion the net Kurti with floral appliqué work and ornamented laces. Apart from that, for the dupatta, choose a mild contrasting color and go with lighter embellishments like woven zari. As the kurta is already in net fabric, stiff silk dupattas are your best bet. The most gorgeous soft contrasting colors are; peach with powder blue, beige with white, and carnation pink with mint green.
4. A FLOOR-LENGTH SHRUG TO TAKE IT UP A NOTCH
If you want to keep it subtle and yet aligned, so to say that you would be festive-ready, this is for you. Pick out a trouser suit with a basic silhouette that is made out of a not-so-basic fabric. Rich fabrics like banarasi silk or brocade would fit well in this category. Wear a transparent shrug over the trouser suit with embroidery only done on the collar, plackets, and hemline. This way, the work in the trouser suit will appear in a way that it would not be highly striking or prominent. For floor-length net jackets, trousers like cigarette pants or a bell-bottom with slight flare would complement the overall appearance.
5. A TRADITIONAL BLAZER WITH AN ANARKALI GOWN
Give a western shift to your traditional ensemble by picking out traditional blazers. Not many people have adopted this duo, which makes it even more extraordinary and noteworthy. You can go for embroidered blazers with zardozi embroidery or hand-pick handcrafted prints like batik and ajrakh to create an alluring Indian aesthetic. To unite the ensemble, pair the blazer with a plain Anarkali suit with identical embroidery on the hemline.
6. AN INDO-WESTERN TWIST WITH ETHNIC CROP-TOP
This is yet another unique and remarkable way to incline a bit towards the western silhouettes. Although crop-tops over a flared ankle-length Anarkali can be quite difficult to visually interpret, it does give a prepossessing outfit inspiration. A crop top with vibrant Resham embroidery coupled with a plain Anarkali gown of the same hue gives out a beyond comparison look.
Related Articles:-
Categories: Abaya Anarkalis Articles, Chokers Articles, Designer Lehenga Choli Articles, Indian Ethnic Wear Articles, Indian Saree Articles, Lehenga Choli Articles, Long Anarkali Articles, Necklace Articles, Pakistani Outfits Articles, Party wear jewellery, Patiala Suits Articles, Sharara Suits Articles, Trousers Suit Articles, Wedding Anarkali Articles, Wedding Lehenga Articles
Sorry, comments are closed for this item.