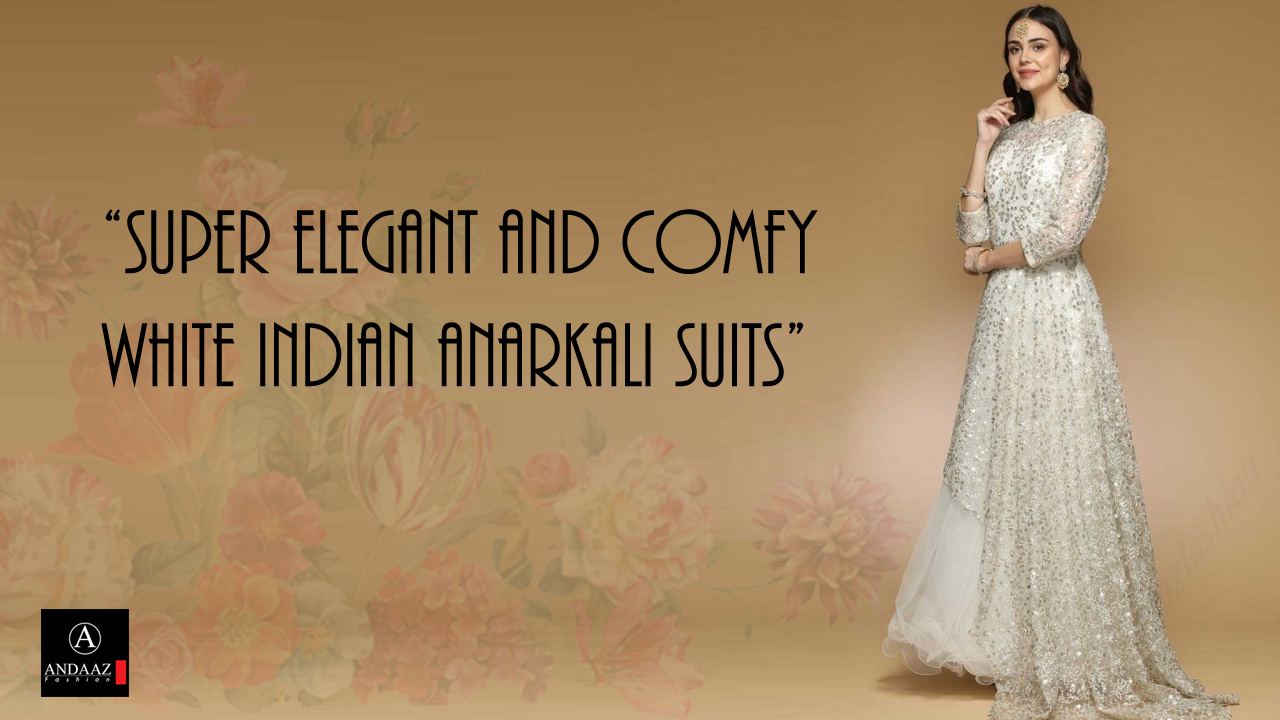 Super Elegant and Comfy White Indian Anarkali Suits
Indian clothing is a rich collection of so many stylish and gorgeous clothes, dresses and designs which can be customized as per one's liking and the best part is that we at Andaaz Fashion provide you absolutely appropriate sizes and designs as per the body type. We promise to give our clients a comfortable shopping experience. Now you can find beautiful Long Choli, Anarkali Suits and  Salwar Kameez sets in all the colors and designs that one can think of. The most likable and admired attire for women all across the globe is the Indian suit. It is one ensemble which is available in numerous designs and patterns.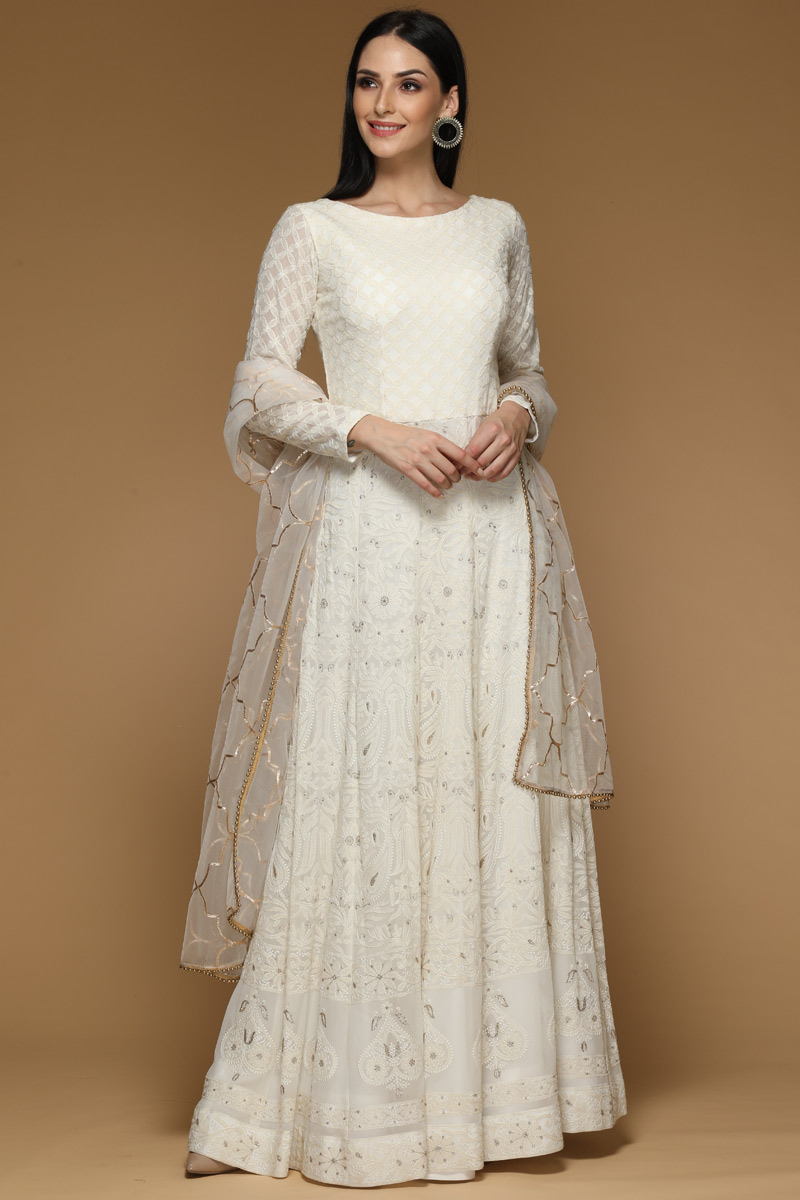 One has the option to buy from so many variety available for online shopping and in stores. The variety available for the suits is so much that one ends up buying many. The Indian dress is always in trend, the fashion keeps on coming back. There are various types of suits available like the salwar kameez, floor length dress, sarees, anarkali, frocks and many more variations. One can buy from this huge variety of designs.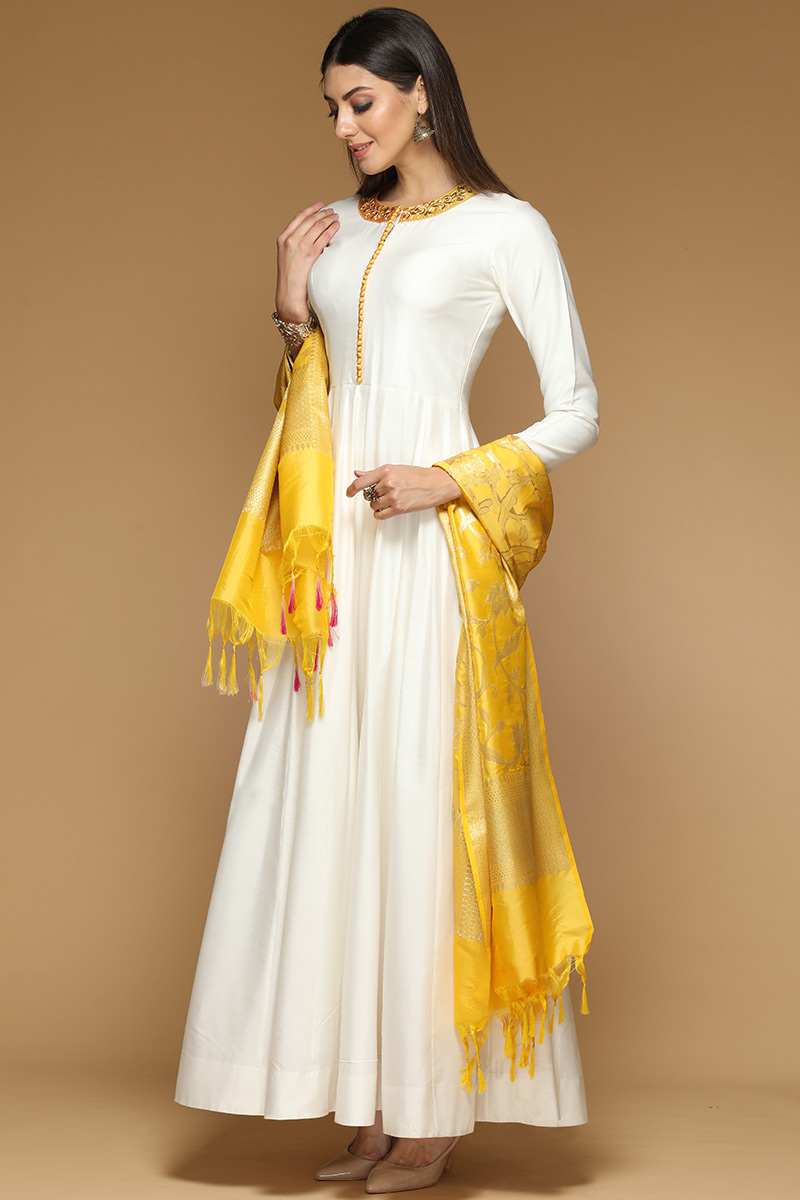 The online shopping trend has made the Indian life easy and comfortable. One is just a click away from buying the best outfit of choice. The Indian frock style suit keeps on coming back in trend from time to time. A full white Anarkali suit design dress looks absolutely stunning. The color white adds body to the dress and makes it look elegant at the same time. White is a color most people think twice before they buy. But it definitely is very graceful. A full white anarkali suit made out of the cotton chicken with some silver dots all over looks beautiful. The designing makes the attire even more elegant and graceful.
A full length combination of a white anarkali suit and frock style makes the Indian ensemble look beautiful. White is a color which makes anything look good and bright. It adds a gorgeous finesse to any design. The Indian clothing has a wide variety to choose from for the women. The more the variety the better a female feels about it as shopping is something almost every woman is passionate about. Most of us have a wardrobe full of dresses and still have nothing to wear.
Thus buying some pretty and gorgeous anarkali suit and frocks is a good option. It can be a peace loving full white or a bright gorgeous red anarkali. One can definitely do some online shopping to save in time and the hassle of travelling.
Related Articles:-
Categories: Abaya Anarkalis Articles, Abaya Collection Articles, Anarkali Suit Articles, BRIDAL ANARKALIS ARTICLES, Bridal Dresses Articles, Bridal Salwar Kameez Articles, Bridal Wear Articles, Churidar Suits Articles, Indian Ethnic Wear Articles, Long Anarkali Articles, Pakistani Dresses Articles, Pakistani Outfits Articles, Salwaar Kameez Articles, Wedding Anarkali Articles, Wedding Guest Indian Dresses Articles
Sorry, comments are closed for this item.