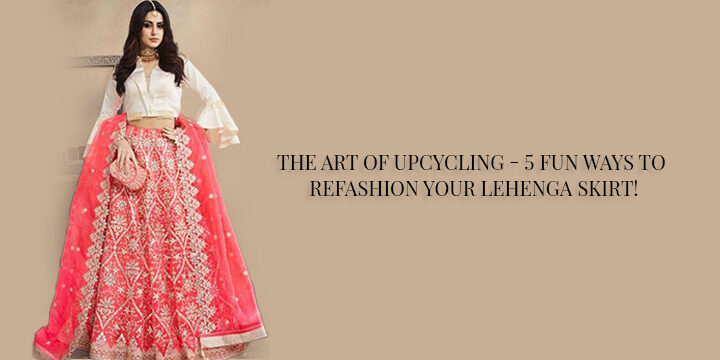 THE ART OF UPCYCLING – 5 FUN WAYS TO REFASHION YOUR LEHENGA SKIRT!
Upcycling is a method of reusing old products in a way that the resulting outcome turns out to be of better quality and efficiency. It requires you to modify your worn-out clothes by putting in your creativity. Upcycling is an economical and effective solution towards waste pollution that comes out of the Fashion Industry as it helps to eliminate unwanted garbage. Preservation of old clothes is important, hence finding alternative ways to re-adapt them is a wise decision. Rebuilding or refashioning cast-off garments is actually quite fun. Heavy Indian clothes are looked upon as a one-time investment, something which can be worn just once, but it is always an added advantage to repurpose existing clothing by blending it with trends and your personal interests. It does not burn a hole in your pocket and keep you in vogue. Listed below are some amazing tips and tricks to follow upcycling.
1. TURN IT INTO AN ANARKALI
It's the most uncomplicated way to elevate your old lehenga. You just have to fasten your lehenga skirt with a matching blouse. You have absolute freedom in what kind of bodice you want to keep in your Anarkali. It's best to contemplate few factors before you stitch them together, like balance, proportion, style, and size to get a general picture of what the outcome will look like. Here are some ideas that you might like;
If the lehenga skirt is heavily embroidered, go for a plain bodice with an embellished neckline and border in contrasting shade.
If the lehenga skirt is plain, hand-pick exquisitely embroidered or handcrafted statement bodices to upraise the look.
If the lehenga skirt has western prints like geometric, abstract, and florals, pick out a contemporary bodice, so it looks like a part of one ensemble.
2. SET IT TOGETHER WITH UNCONVENTIONAL BLOUSES
Make an entirely different lehenga set by putting together a unique composition. Keep the lehenga skirt constant and play with the latter half i.e blouse. Give an offbeat shift to the utter traditional lehenga by pairing it with eccentric blouses. Down below are the types of unconventional blouses you can use to get an off-center ensemble.
Corsets: A corset is a slim-fitted undergarment to provide women an illusion of an impeccable curve. Leather and lace corsets in solid shades will give a hippie vibe to the look.
White shirts: Instead of going for a usual formal shirt, root for unique sleeves like bishop, bell, and cape.
Lace Bodysuits: A bodysuit is a form-fitted bodycon that hugs your skin elegantly. There are a number of lace bodysuits available in the market for you to choose from.
3. ADD DAINTY AND DECORATIVE TRIMS
Decorative trims do not have a functional purpose in the garment. It is just there to elevate the outfits with its vibrant charm. It's a very affordable way to take your lehenga skirt up by a notch. The best part is, you can do it at home. Here are some trims you would require to adorn the lehenga skirt like a pro;
Tassels: Tassel or Latkan is a common preference to embellish an outfit. They come in various forms and can even become a statement of the ensemble.
Laces: Laces can be used either as a lehenga belt or a border.
Jewelry: Go an extra mile by using gold chains or dainty jhumkas as a garment accessory.
4. REMAKE IT INTO SOMETHING ELSE
If the lehenga skirt in itself is not your flair anymore, then it's time to expand your horizons. It takes few meters of fabric to make a lehenga skirt, hence, you get ample options here, although they get narrowed based on how the lehenga skirt is constructed. For instance, If it's pleated or gathered from the waist, it'll provide you with myriad choices, while for the lehengas that have a circular cut, those choices will get narrowed down to a few. Here are some ideas you might want to ponder upon;
5. CHOP IT INTO A DUPATTA
In this generation of versatile and comfortable clothing, dupattas have gained immense popularity, as it is an unstitched piece of clothing that women can don in dozens of ways. Dupatta comes in varied designs, and you can never have enough of them. So, stock up on them a little more because they will definitely come in handy one day. As dupattas won't take even half of the fabric used in making a lehenga, cut it wisely. Dupattas are rectangular-shaped, so it would only work well if the lehenga skirt is gathered or pleated, not when it is circular-cut. Down below is the step-by-step process on how to accomplish this idea.
Lay the lehenga skirt flat on the surface.
Take chalk and mark the line 40 inches from the lehenga skirt's hem.
Cut from half an inch above where the line is marked.
If there is a broad border, cut half of it and fasten it on the other side.
Give the resulting dupatta a neat finishing stitch.
Related Articles:-
HOW TO CARRY HEAVY EMBELLISHED JEWELS WITH SUBTLE LEHENGA LIKE A PRO
Categories: Abaya Anarkalis Articles, Anarkali Suit Articles, Bollywood Dresses, Designer Lehenga Choli Articles, Lehenga Choli Articles, Party wear jewellery, Princess-cut Jewellery, Simple Lehenga, Traditional Indian Jewellery, Wedding Anarkali Articles, Wedding Guest Indian Dresses Articles, Wedding Lehenga Articles
Sorry, comments are closed for this item.